Recurring reports allow you to schedule a report that will be automatically emailed to specific users at a regular interval.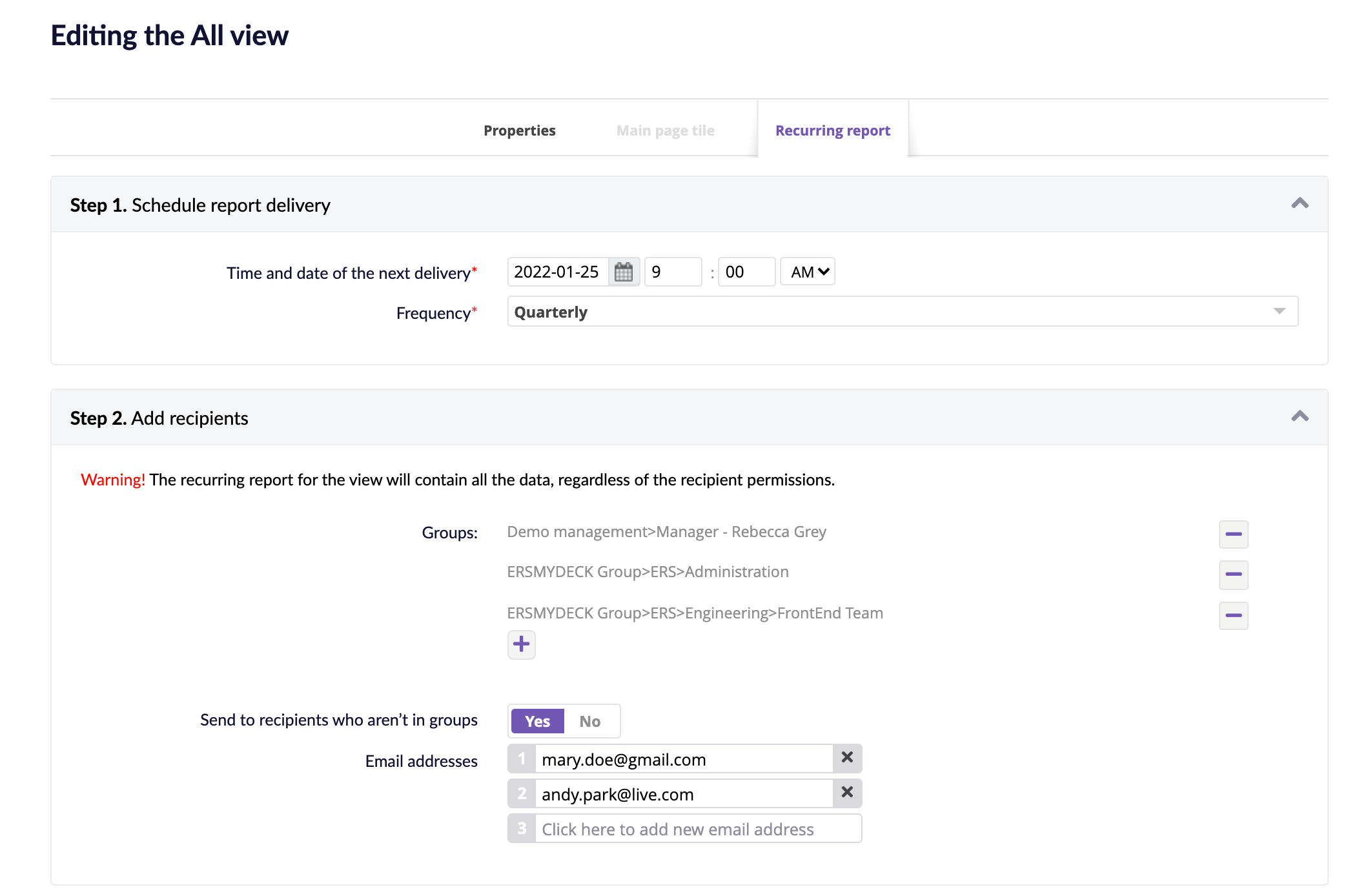 Data displayed in recurring reports
Recurring reports can be created for views in the Analytics>Results and Employees>Employee directory sections.
Please keep in mind that recurring reports will contain all the data from the view, regardless of the recipient permissions.
Permissions
To be able to create a recurring report, you need one of the object roles and the system role assigned:
Object role at the

organization level

: Users - view

OR

Users - edit.

System role: Analytics - manage recurring reports.
How to set up a recurring report
Go to

Manage employees>Analytics>Results

(or

Manage employees>Employees>Employee directory

) and select the view you want to create the recurring report for.

Click on the three dots next to the view name and select

Edit view.

In the properties tab, scroll all the way down and select the view option

Recurring report.

Click on

Save and back.

Now the recurring report tab is active.

In the recurring report tab, enter the date and time of delivery of the first report and how often it should be sent out. Once the first report has been sent, the date field will be updated according to the selected frequency.

Add groups and/or email addresses (emails don't need to belong to HCM Deck users) of recipients.

Click on

Save

to finalize. You should see a green success message at the top of the page stating the date of the next delivery.
If you want to check the look and feel of the report before sending it to other people, click on Send test report. The test report will be sent only to the email address assigned to your profile in HCM Deck.
Timezone
Reports are sent according to the recurring report creator's timezone.
What happens when you change the view type from recurring report to visible for all/visible for me
When you set up a recurring report (for example, to be sent on the first day of every month) and later change the view type to visible for all/visible for me only, the report will no longer be sent out. But when you change the view type back to recurring report, the report will be sent on the next 1st day of the month.